Black Friday at just the right time! You know you are a business when…
Well, the big retail day has come and gone for another year. However, I noticed something this round, which definitely points to all signs that we are, indeed, a small business couple.
First, a little perspective: For many years (after having learned our lesson in the past) we have skipped the "doorbuster" specials and decided to hit up the stores later in the morning of actual Black Friday (NOT Thanksgiving evening) to get a peek at the leftovers. Typically, this ends well for us, as we are seldom in the market for any of the primary deals and what we want is still in ample supply when we mosey in around 11 a.m. Sure we run the risk of not getting everything we were after, but the peace of mind is definitely more valuable.
To add a new layer to this traditional tribute to capitalism, Liz and I spent Thanksgiving week this year with family in Clearwater, Florida. That's right. Be jealous! Whilst many of you were bundling for Kentucky's newfound, steady sweater weather, we were enjoying one last hurrah of 80+ degrees in the sun and fun. Now, let the jealousy fade as we are now back amongst you in the overcast 50s of Western Kentucky for the duration.
This, of course, means we also had our Black Friday foray in the Sunshine State. Many of the same stores and many of the same deals, but in an unfamiliar, more populated area. We found most of what we were after, including a few Christmas presents the details of which I cannot discuss here, as many on that checklist subscribe to this blog. However, like I said before, I did notice a kind of practical note amongst the opportunistic crowds: Black Friday, for small businesses=a chance to stock up!
Back in the studio, this year has been a race against space for our file storage. You see, professional portrait files are huge and filling even large external drives can be far too easy. I was hoping to end the year before filling our latest hard drive. Alas, we have a month to go in a very busy 2015 and our latest primary drive is slipping below 5 gigabytes of available space (enough to make just about any professional photographer sweat a little). As luck would have it, Best Buy was having deals on all kinds of storage devices geared to make photographers' lives a lot easier and at Black Friday prices. As I perused the elbow-to-elbow aisles in what was one of the most professional photographer-friendly Best Buys I've ever seen, our late-to-the-game luck held out and all my immediate file storage needs were met Black Friday style!
It was at this point that I realized I spent way more on the company card than on my own personal Black Friday grabs. It is also at that point I find we are using Black Friday more as a business supply discount tool than as a chance to get that flatscreen I didn't realize I needed until it was half off.
But the cool part about this is the excitement of putting all these new devices to work in making our business better for us and for our clients. Perhaps you might not find this as interesting as we did, but it is funny how this Black Friday epiphany occurred in a Best Buy more than 800 miles from our studio.
This all being said, the year is not over yet and we still have lots more opportunities for portraits. Like I noted last week, this week (Dec.1-5) will be the final, final, final week for our option-based Christmas portrait sessions, as we want to assure everyone gets their prints/cards in time for the holiday. So, once again, ignore the dates on the following image and know the deal stands for another week.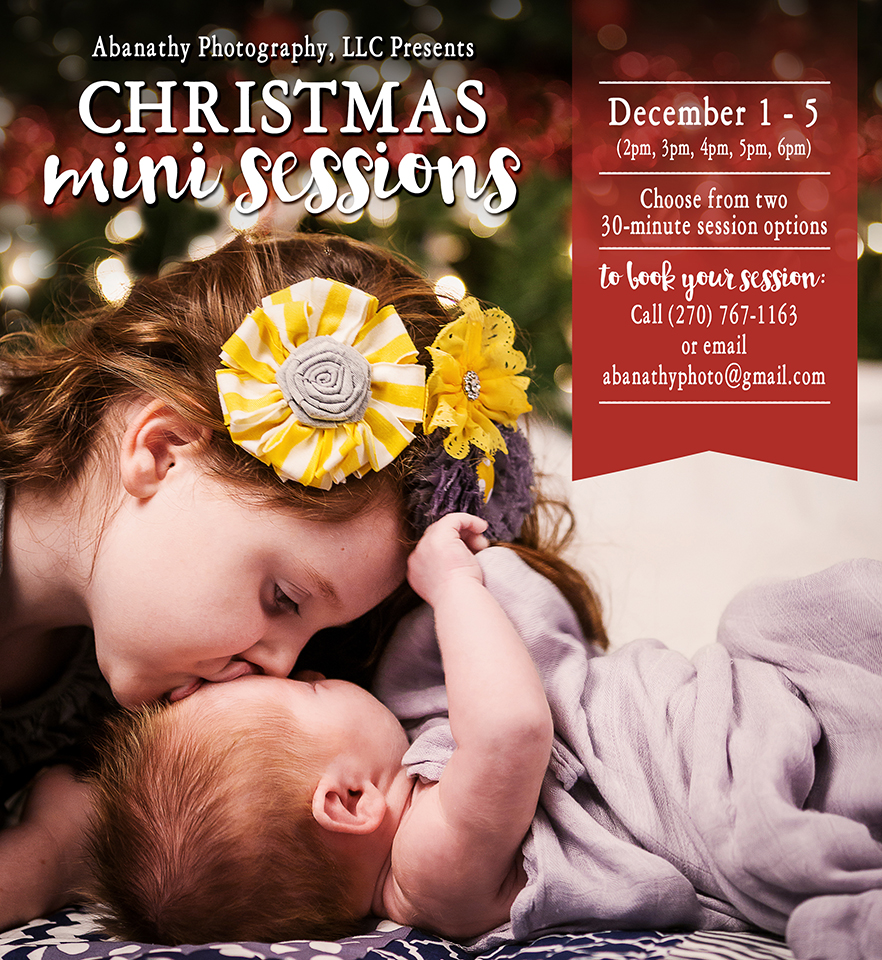 As before, you have two options:
Option 1 is $69 and includes a 30-minute session with a minimum 10 images uploaded to an easy-to-order, online portrait gallery.  From there, you may order your portraits on a variety of items including prints, Christmas cards, ornaments and other gifts. (also, if you order $100 or more in prints and gifts, we will send you a free portrait disc containing all images and a copyright release)
Option 2: $149 includes a 30-minute session with a minimum 10 images uploaded to our easy-to-order, online portrait gallery and a portrait disc containing all images and a copyright release.
Also, if you want to have portraits made or know someone who does, but fear you (or they) will not have the time before 2016 rolls around, we might have just the thing. Plus, you get to check one more gift off your list: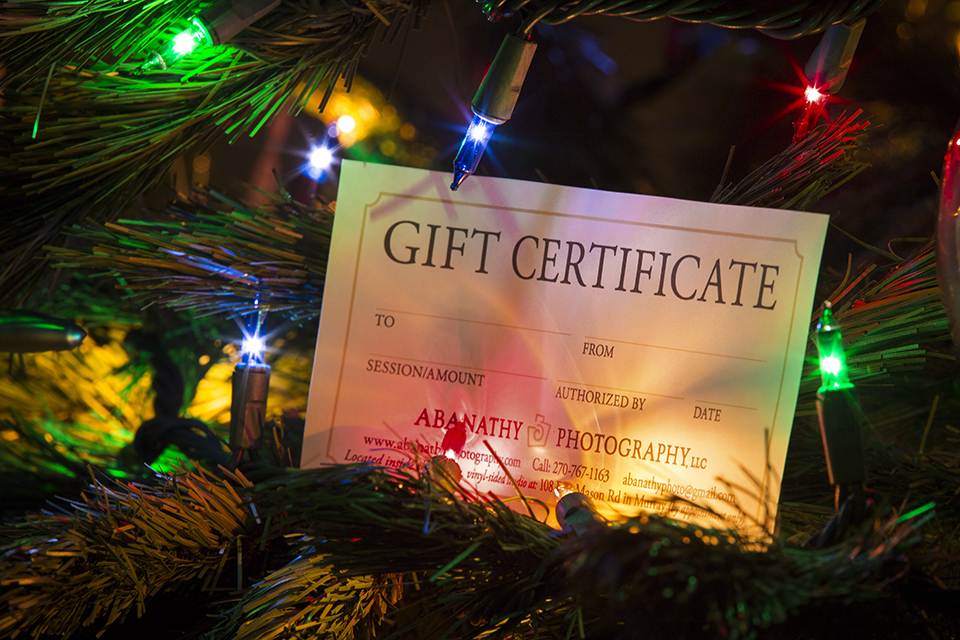 Any of our portrait sessions can be bought and given in gift certificate form. They make the perfect gift for expectant mothers, engaged couples, brides/grooms-to-be, or growing families. Simply email to abanathyphoto@gmail or call (270) 767-1163 for more details on how to purchase an Abanathy Photography, LLC gift card this holiday season.
Well, I am rested and ready to return to the fray for the Christmas season. Now, lets get that new hard drive set up before I make the old one angry.
Comments
comments