Playboy need not necessarily be nude?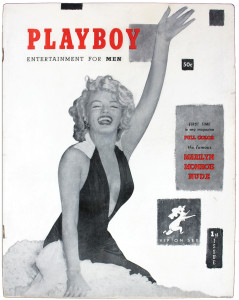 One might think, as they grow older, fewer things would surprise them. After all, the more years you have on Earth, the more likely it is you can relate current events to something you've seen before. The problem with this is: Life's infinite possibilities outside of a scripted environment never cease to bring about surprises for even the most seasoned of people.
This week offered just such a surprise as an American staple of men's lifestyle and entertainment magazines, Playboy, announced their upcoming discontinuation of photographs of fully nude women.
Essentially, according to CNN and A letter posted on Playboy's website, the motive is two-fold.
First, Playboy is looking to lean more on their award-winning journalistic, fiction and comedic sides while reining their signature imagery more to the conservative side. Women will continue to be posed suggestively or seductively, however they will no longer be fully nude.
Second, the magazine, once revered in the conservative 1950s for being a pioneer in nude portraiture of models and celebrities, has now met its match in today's internet. Essentially, Playboy's executives believe, with nudity in all forms now literally at people's fingertips (often for free), the magazine's once novel claim to fame has become a bit passé.
Some have denounced this move as a marketing ploy while others have forecast business suicide for the more than 62-year-old publication. Others will step back and say: "True, Playboy is putting clothes on their models while keeping them sexy, but, nowadays, this is nothing new". To the latter, they would be right. Popular magazines such as Maxim have been doing this since the get-go and Playboy's news comes on the heels of this week's announcement by Esquire Magazine of Emilia Clarke as their 2015 sexiest woman alive (which yielded some stunning boudoir imagery of the Game of Thrones actress).
However, this doesn't change the fact, when the granddaddy of  magazines synonymous with nudity decides to move in a similar direction, it intrigues me. One of my most viewed blogs to date "Boudoir need not necessarily be nude" touched upon the very idea that clients do not necessarily have to bear it all for one of our "You" boudoir sessions. In fact, from many arguable standpoints, the art of the tease and what is not seen can create an image much more enticing than one which shows all.
This is why Playboy's decision to go more in the direction of artful boudoir photography has hit a profound cord with me. I know epiphanic enchantment was probably one of the furthest things from reality during the boardroom meeting when they decision was made. And the reasons given in either article linked above do not, in any way, reflect this sentiment. However, I look forward to seeing where they go with this. And while I'm sure those selected to grace Playboy's pages will remain in the realm of supermodels and celebrities, I think it will be able to relate more to the average, more modest woman. And that is pretty much our goal with "You" by Abanathy Photography as well!
Ultimately, Team Marketing Ploy might be right in their prediction and this might result in a "Playboy 2.0: Now even nakeder" edition sometime next year. However, for now, I might just basque in the idea that Playboy could become more of an inspiration to my boudoir photography rather than a continuing symbol of that ultimate step which could make or break a portrait. In fact, it might find me in February purchasing a copy of Playboy for the first time ever (that's right, not every dude has a subscription), and, I'll be honest, from a professional standpoint, I might buy it…just for the pictures.
Comments
comments