First-day-of-school portraits? Some tips to do it right!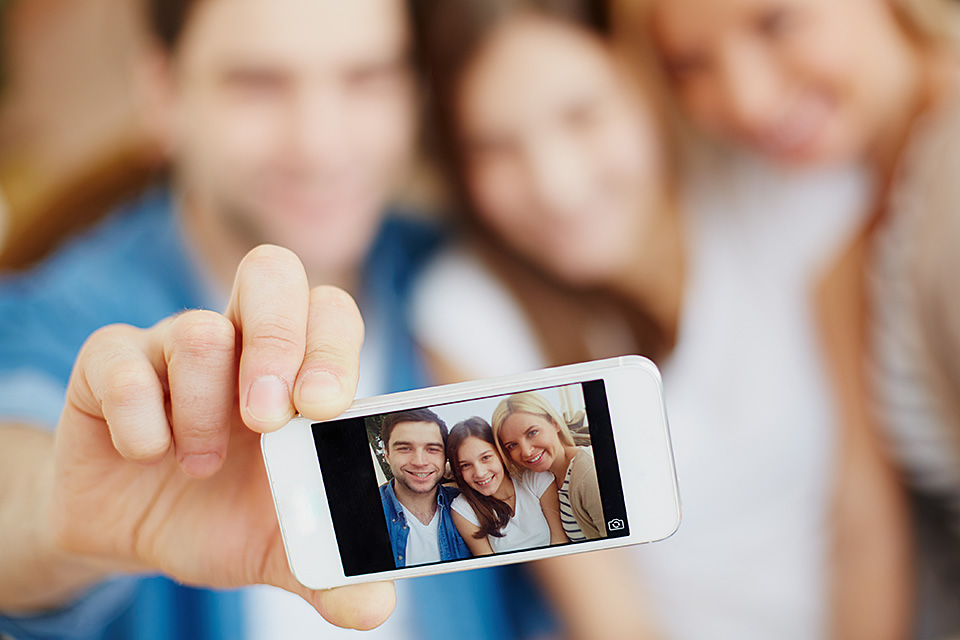 Ahh, the sound of silence. Moms and Dads, it is just around the corner. This week the little rug rats head back to school and the house will be much quieter for a good portion of the day. It is a bittersweet time for many parents. It's sweet to have that time back or to reduce the sitter's fee, however, it is also a bitter reminder that those little ones are a year older and about to be a year wiser. If only there was a way to capture those moments as a keepsake…Wait a minute, this is a photo blog! There is a way!
The other day, we found an article from the Today Show giving tips on capturing these little ones' first day of school in photos. Obviously I would advocate for hiring a professional photographer (like, oh say, me) to be there as little Timmy or Suzie heads off to the classroom. However, as I'm guessing a professional photographer was not on the back-to-school supply list, I figured I would share these Today Show tips and make a few recommendations on the DYI front. After all, as a reporter in Nevada photographically covering the first day of school for six years straight, I have been there a few times already.
(And, moms, don't miss below where Abanathy Photography, LLC is offering a special just for you as school begins again).
Of course, I want to you to be on the same page, so here is a definitive link to the Today Show article (It's a snap! 9 tips for taking memorable photos on the first day of school). I'll wait a moment while you check it out…You good? You great?! Alright, lets continue.
To paraphrase Today's tips for quick reference:
Dress or adorn your child in colors that "pop"
Let your child pick the mode of transportation
Let your child choose the outfit, which best defines their personality
Don't be afraid to set up a few shots. They don't all have to be candid (or from the actual first day of school)
Photograph parts of the daily routine
Be mindful of the backdrops and utilize the unique when possible
Don't be too proud to beg and bribe for a great smile
Use ever-present backdrops to document your child's growth through the years
Put yourself in the picture
While they do have great tips for you to capture your child's first day at school, I do have a few pointers of my own, which might refine a few of these and make them a bit better.
I will start off with the first one, dressing your children in colors that "pop". Colors that "pop" are great. They will make for more vibrant photos and a happier day. However, like we caution parents who bring their little ones into our studio, be sure to veer away from popular characters (i.e. Spongebob or Dora the Explorer). While the colors might "pop", the image will "date" quickly. Modern favorites become tomorrow's unsavory throwback. It is best to stick with generic figures (dinosaur silhouettes or stars) rather than specific characters. The only leniency I might give would be for more timeless characters like Batman or Superman, but, even then, it changes the mood of capturing your child's uniqueness. Remember, you want "pop" not pop culture.
On the second, I would let the parent be the judge. Bringing a scooter to school for some pics or snapping a few in a skateboard near the bus stop might be fun, but placing little Timmy on a scooter and saying "let's go" is probably not going to be practical (or safe) means for many rural commuters.
The third, while cute, could be wrought with pitfalls. Not only does it hold the potential to undermine the colors that "pop" recommendation, but it could also backfire drastically when it comes to the really young ones. The article says "Let them pick out something that they feel fabulous and confident in — even if it's an Elmo pajama shirt with candy-striped pants and rain boots." Well, it might be cute for a quick snapshot at the bus stop, but that little ensemble on a kindergartner could find little Suzie's parents in a parent-teacher conference, or worse, receiving a call from Child Protective Services. Sending a child to school in mismatched pajamas and rain boots might send up unintended red flags. Instead, you might guide them in their quest to find that unique outfit. Trust me, you can be very influential without being intrusive on their individuality.
Number four is a great idea! Especially the part about taking photos before the actual first day. It is like when you consider how a Hollywood movie might not be filmed in sequential order.  The only ones who know better are the film crew. Nerves run high on the first day of school…for everyone. It is often a fast flurry of pinball-level activity that happens in a blink before being silenced by a bell. With this in mind, trust me, you will be much happier getting some of these images before the big day, before the jitters and without all the distractions.
Number five is covered well in the article. It is important to consider the ambience of the moment. While a thousand pics of your smiling youngster are great, the candid and accessory moments are great too. Especially with today's social media hold on food selfies and candid captures, this should be a breeze!
Number six is a big one. It is a big part of the photography world and can be greatly utilized in first day of school portraits as well. Backgrounds are often something we don't consider when taking a photograph. That is why you have lots of images of your family with phone poles, too much sky and clutter in the backdrop. It is a brain thing that I am not going into here, but sufficed to say, this is an opportunity to be mindful and active in selecting the backdrop for these images. Find some trees or an attractive wall. Something neutral is best rather than something like in front of the car drop-off line or with a bunch of other kids and parents milling around behind them. There are creative ways to handle cluttered backdrops, but, like I said initially, a professional photographer is likely not to be on hand.
Number seven is self-explanatory. Bribery is good tool in the studio. I see it often and it works (most of the time). Promise of a later ice cream cone might put a smile on their face. This is especially handy as they get older and school elicits fewer and fewer smiles on the first day. Of course, the bribe's price tag is also going to increase as they get older, but that is another story.
Number eight goes well with Number six in that backdrop is crucial to a portrait. But thinking ahead (somewhere around 12-13 years ahead to be exact) is something else. The idea of finding a common backdrop to document your child's growth through the years is a great one. I only have a few sub tips to add to this. First, following the first year, be sure to have that image on hand to take subsequent years. That will help assure you frame each progressive photo exactly the same way. Second, take Doc Brown's advice from Back to the Future Part III and think fourth dimensionally. Find a backdrop that is likely to exist 12-13 years from now. While a faded, chipping mural on an old, abandoned building might be unique, it might also be gone in a few years. As I have gotten to a point in my life where I have seen a building both built AND torn down, it can be tricky to find a fixed point with guarantees of longevity. Heck, even my old elementary school and all of its murals are now gone. Now, if you find a great backdrop and a threat exists for it to be demolished or otherwise removed, you night consider just snapping a photo of the backdrop without anyone in front of it (be sure to capture it just as it is in previous photos). With this, a professional photographer or handy mom could potentially still complete the series with superimposition. There are a few more technicalities to consider if faced with superimposition, but this is a start.
Finally, number nine is a great idea. Of course, you are going to need another person or tripod to hold the camera (don't take all selfies, as this too will date your images), but putting yourself in the image is a great way to capture those moments. Once again, this is a great time to consider staging a few poses before the actual first day of school. Especially if this is your child's first-ever first day of school. Some moms become a little emotional during that "see you this afternoon" moment and few want portraits of themselves crying in public. Be sure to get that moment before things get real and the finished product will be much more frame-worthy.
So, there you have it: Some tips and sub tips on capturing your child's first day, and first day back, to school. Now, as promised above, this next part is for the moms who now have their mornings back and want to take a little time for themselves.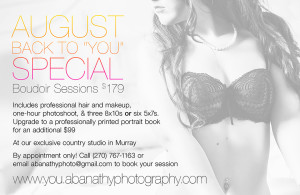 In August, "You" By Abanathy Photography, LLC is offering its "Back to 'You'" Special! The session is $179 and includes hair and makeup, a one-hour portrait session, and your choice of either three 8x10s or six 5x7s (upgrade to a professionally printed, 16-image portrait album for an additional $99). You've been a busy mom all summer, but don't forget you are also a beautiful, radiant woman. Let us show you! Consultations are FREE and discreet!
Comments
comments