The Expo has left me spent, but pumped!
If "hausted" could be a word to describe "full of energy" (and it might be depending on which link you click on in a Google search) then I am most definitely ex-hausted. But it feels great to be exhausted for the right reasons!
True, many might not think it a lot of work to sit/stand in one spot for three days directing people to your wares. However, I would compare it to a three-day road trip: You're not physically exerting yourself much, but constant mental awareness is paramount, otherwise a passive vendor often becomes a passed-by vendor…Especially when you are selling portrait sessions many might find themselves a bit too timid to investigate.
But the long sit/stand Liz and I had this weekend at the 2015 Indoor-Outdoor Expo was worth it. We met several wonderful local vendors as well as many wonderful ladies interested in learning more about our various portrait packages! And we want to thank everyone who stopped by our booth to sign up for our newsletter and for a chance to win a $50 gift certificate. The winner will be notified shortly!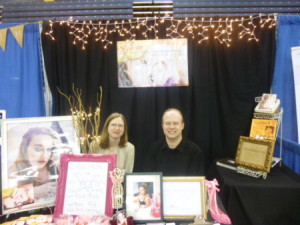 Our expo booth, this time, had a focus on our "You" by Abanathy Photography, LLC brand. This  is, of course, our intimate portrait, or boudoir, sessions. While photography, in general, is a common service, we understand adding the intimate distinction puts an entirely different weight on the whole concept. As such, we understand this can be an unexpected, even profound, gift idea for him, her or just for you. We just want to remind you, with us, you could not be in a more discreet, safe environment for what might be one of the most exhilarating portrait experiences of your life!
For those who might have had their interests piqued by our booth (and could not stop due to timidness or a nearby significant other), we would still love to meet and talk with you! Our consultations are discreet and private and stays between us and you! Click here to check out our "You" website where you will find lots of great information and our new video! Email to abanathyphoto@gmail.com or call (270) 767-1163 to set up your no-pressure appointment today!
Now, exhausted or not, time marches on for this photographer and we are looking forward to coming weeks! From our family mini sessions this week (We still have spaces available for anyone interested) to the summer's weddings, the warm months are just kicking off and I am pumped for more rewardingly exhausting days ahead!
Now to switch gears for an update (although it still keeps in the spirit of the Indoor Outdoor Expo: A few weeks ago, I blogged a non-photography blog about planting seedlings in egg shells. As the last update stated, I had to reboot them due to the eggs having bacteria still present on them.
To catch up, click these links (Ready to dig in the dirt…without my camera, of course! and A chance to see "You" at the Indoor/Outdoor Expo!)
Well, the reboot, unfortunately, did not work well. I have my theories as to why they did not sprout, but that will have to be examined next year. We more or less reached our deadline where we have to have seedlings begun in time to have them ready for the garden, so I had to return to plastic cups for this round…But then something funny happened: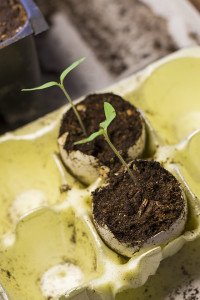 As Liz was emptying some compostables into our compost bin (where the egg shells ended up) one morning, she noticed a sprout sticking out of one of the eggs. We brought that in and it was not a day or so later I found a second sprout! Both are now growing strong alongside the others where all are doing great! At first, I assumed they were peppers based on the length of time it had taken them to sprout, however, I can now see they are clearly tomatoes!
Do I regret hastily emptying the eggs now that I have seen these sprouts? Nope! Not really. Tomatoes typically sprout in 4-7 days while the package says 7-10. When I saw nothing for 10+ days, I just assumed they were not going to do anything and, like I said, we were out of time.
I am disappointed I won't be able to use the natural, calcium-rich seedling "pots" this year, but I still see the egg shell as half full. Now, I get to conduct the experiment with two seedlings and still get my plants as usual. Like I said, if these two prove workable, I have some ideas for next year that should get many, many more to sprout for me!
Stay tuned for more egg updates in the future! And, BTW, even though I do not have a picture of them, I can assure you the cabbage pictured in the initial blog is also doing great. They are enjoyed the cool weather and are growing rapidly!
Comments
comments