Passionate about his art: Meet our hair and makeup artist!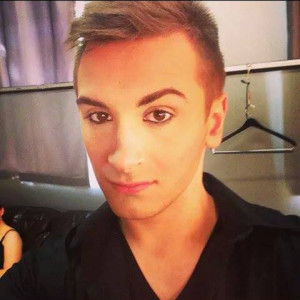 In 2013, you met me (A little about myself: The man behind the lens) Then, you met my wife (A little about myself: The woman behind the laptop). Well, we only thought it fitting this week you meet our professional hair and makeup artist partner as well! Especially as he will be meeting some of you at our "You" Valentine's Day Special Portrait Shoot next weekend!
Devan Reed has a passion for hair and makeup! Anyone who has every watched him work would not question it for a moment! Donning tools of the trade nestled neatly into his stylists' apron, the glow of someone who enjoys his career radiates true. But, it was not always the case.
Devan originally headed to Murray State University, from his native Mayfield, to study Music. However, once there, he instead found his path lies in another branch of the arts: The theater!
"I first realized I had a passion for hair and makeup after I was cast in my first show at MSU and had to buy a makeup kit" Devan said, adding the art came naturally to him, "I grew up in a hair salon. My mom and aunt both did hair so I was no stranger to cosmetology."
Along with his change in major, from music to one in theater (with emphasis in design), came the necessity for refined know-how! So Devan took his lifelong experience, coupled it with his MSU course and began playing around with hair and makeup and watching many, many tutorials. Today he is well on his way to a promising career in hair and makeup!
"I am worlds apart from the 18-year-old who came here to be a music teacher," Devan said.
Devan is about a year and a half out from graduating MSU, but, for him, learning how to make people beautiful doesn't end there! In fact, there's even more excitement in store once he leaves Murray in 2016 and heads to Chicago where he plans to study hairdressing at the Aveda Institute.
When it comes to hair and makeup, Devan really doesn't have a preference of one over the other. For him it is a package deal, however, if he had to choose, he says makeup might win out based on its diversity and its endless possibilities from the beautiful to the scary.
"I love making monsters," He laughs.
With Abanathy Photograpy, he has not had to bring out the monster in anyone yet, but he has brought out the beauty. Devan began working with us in October of last year and will be working with us several times this year with our regular sessions and our "You" by Abanathy Photography, LLC sessions!
"Doing boudoir sessions has been really fun!" He said. "I really get to connect with the model and have fun collaborating with ideas and visions. It always feels good to see a woman become confident and feel beautiful. I'm glad I can be a part of that!"
Once he leaves Murray (and leaves a hard-to-fill pair of shoes in our studio) and, ultimately, The Aveda Institute, this truly talented artist is poised to go far. By now I sure you could guess his ideal career is to do hair and makeup for the theater, but keep your eyes open during the credits in the future as he hopes to someday take his talents to Broadway!
But, for now, he is enjoying his time in Murray and working with Abanathy Photography, LLC. When he finds a break, Devan enjoys spending time with friends and family (including his mother and brother) and enjoys just relaxing at home playing Xbox with his boyfriend and spending time with their dog, Astaire, and cat, Thomas.
He is a man of talents and has chosen to share those many talents in making the world a beautiful (and sometimes scary) place. And, while Abanathy Photography would like to keep him all to ourselves, that would be unfair. For anyone looking for hair and makeup from a truly impassioned professional, they may contact him via telephone at (270) 705-9496 or via email at dreed13@murraystate.edu
Comments
comments