Thankful for clients, hungry for Thursday, and ready for Small Business Saturday!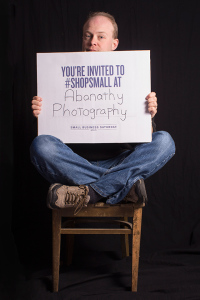 This week has offered a bit of a breather for Abanathy Photography following weeks upon weeks of taking pictures and editing…and that's a great thing as it is time to give thanks, have some food, spend time with family and enjoy the day!
We had such a great time with the fall mini sessions, but the fall weather went by busy fast and the first frost ushered in not only head colds, but several days of weather too cold to do the final yard work. This is why I was thankful for Saturday!
Nearly 60 degrees saw me out in the yard, bringing the lawn mower and rototiller batteries in, putting our rain barrels away, and taking down our garden for the year. True all the plants had succumb to the cold more than two weeks ago, but okra stalks over my head makes putting plastic down in preparation for next year would make the task very difficult.
Now with that finally behind me, it is time to look forward to Thursday when I get to see family, avoid the stores until Friday afternoon, and feast like it's 1999.  Then it is time to look forward to the next big holiday…Christmas…and beyond!
That is the trick with photography, it is a year-round need for a variety of reasons. And while we are booking for Christmas mini sessions for next week (Dec. 1-7) and are available to photograph your holiday party events from now until Christmas Eve, we are also looking ahead to next year!
That is why our first event will be Saturday, or should I say "Small Business Saturday"! With that, anyone who books with us on Saturday (Nov. 29) will receive 15% off gift certificates and up to 15% on session bookings. To the latter, anyone who books on Saturday will receive 10% off their session fee and will receive an additional 5% off if they pre-pay on that day (wedding packages require a minimum $250 pre pay).
This #shopsmall and/or #shopsmallmurray deal goes for every session we offer from weddings and senior portraits to "You" sessions and event bookings! If you have a wedding coming up next year or would like to get that special someone the unique gift of beautiful you for Valentine's Day, then Saturday is the day to come see us! Be sure to call us to book a consultation time at (270) 767-1163 or email us at abanathyphoto@gmail.com
Of course I don't want to get ahead too far. We do have Christmas coming first! Like I said above, we are offering our Christmas portrait mini sessions next week (Dec. 1-7)! For $49 the Christmas mini sessions include a 30-minute photo session, one free digital download, and a minimum 6-8 edited images in an online, private gallery for print and card ordering.   Times include 2pm, 3pm, 4pm, 5pm, and 6pm so be sure to sign up today!
Also, if you are looking to get something a little more intimate for that special someone on Christmas, we are offering our "You" Stocking Stuffer Special from Dec. 13-20. For $59, you receive a 30-minute intimate portrait session and an 8×10 of the beautiful, sensual you with the option to purchase additional prints (add profession hair and makeup for an additional $50)! To reserve your "You" Stocking Stuffer Special, you may call (270) 767-1163 or email us discreetly at abanathyphoto@gmail.com
With that, I will say to all of you to have a wonderful Thanksgiving! Eat too much, laugh with family, take a break, take a nap and know we at Abanathy Photography are thankful to all our clients and clients yet to come for making this a great year!
Comments
comments