Frosted leaves? Dark at 5? Christmas minis must be near!
If I needed any reminder the season of Halloween has passed and the end of fall is nigh (other than the fact it is now getting dark at 5 p.m.) it might be the impressive frost which greeted me from the leaves near my front door this morning. That must mean the season of Christmas mini sessions are near. However, the only question is: Do you fancy yourself an early bird?
We are now booking appointments for our Christmas Early Bird Mini Sessions. Basically, they are the same as the regular Christmas minis with two main differences: They are $10 cheaper and they take place before Thanksgiving making it quite convenient and stress-free!
Looking to have some family portraits made for the Christmas card this year? Want grandma to have a unique gift from the grandkids? Beginning next week, that gift could be well underway with our early bird special!
The Early Bird Mini Session is $39 and includes a 30-minute portrait session, one free digital download, and a link to an online proofing gallery where you will have a minimum 8 images to choose from. From there, you may purchase prints, custom Christmas cards and more (at an additional cost)!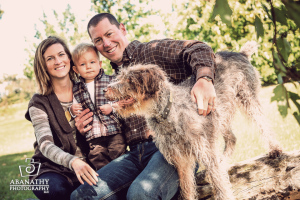 Now, I have to bid a proper adieu to Autumn, as it has been a great one for Abanathy Photography! Autumn is and always has been my favorite time of year with the Halloween spirit, the changing leaves, and the aroma of wood smoke creating such an enticing seasonal tapestry. And, like I said, what an autumn it has been and especially great one for Abanathy Photography!
Beginning with our "You" Session Holiday Special and ending with Halloween's "Me in my Costume" mini sessions, I have photographed many wonderful families, stunning ladies, and cute Halloween costumes. And this is not to mention the beautiful weddings I have been honored to photograph this fall as well!
And this brings up a good point! If you are planning your wedding for next year and are in need of a wonderful photographer, this is the time to book Abanathy Photography for your big day! We are currently booking for next year, dates go quickly, and consultations are free! Plus, accompanying weddings, we also offer bridal portraits, bridal boudoir sessions and, for those already married who would like to slip back into their wedding attire for some beautiful portraiture, we offer the "I do-Again!" package. The latter makes a great anniversary present or just because and all of our portrait sessions may include professional hair and makeup for an additional fee!
Whether it be for this year's Christmas card or next year's nuptials, we look forward to meeting you soon!
Comments
comments