So…There once was this photographer who could write!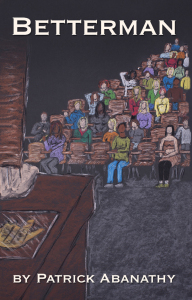 Well, fall has definitely arrived. Or, at very least, is giving us a great sneak peek! On the photography front, things are definitely heating up from family portraits to weddings, however, in today's blog, I want to switch hats for a moment and talk about something else that is very exciting to me right now: My new novel!
If you have ever read our "About us" section on our website, you already know the other half of my degree is in journalism. Couple this with my lifelong love for science fiction, my experiences as a journalist in Nevada, and my distaste of reality TV (more specific to my book, those which cast votes to determine the show's outcome), and you have the ingredients for my novel!
This has been a long time coming for me. In fact, I am almost embarrassed at how long it took me to get it to its finished, presentable form. But I understand, as I do not write fiction for a living, life does get in the way from time to time. Daily jobs, commutes, moving across country, ice storms, home repairs/maintenance, building photography studios, rewiring our house, and holiday hustles and bustles are just a few things that prevented a more timely release. However, finally, it has arrived and I am proud, relieved, excited, and nervous all at the same time!
And the funny thing is it was not the story that was the problem. In fact, that part went pretty fast. It was the rework and editing that too the most time. One does not know how much goes into a book until they are tackling most of it themselves. However, as I have had several more ideas bouncing around in my head for the duration of these years, I am making a promise to myself not to let that much time pass again before my next novel. I have too many exciting stories to get out! But, I digress. Enough suspense! Back to the point!
The novel is titled "Betterman" and it is set in the year 2255. It has a little bit of everything and is definitely not one for the young kiddos. I suppose the best way to give a appetizer without accidentally giving too much away is to let you read the teaser included in the book. So, without further ado:
"Many don't stop to ponder just how much of a hold history can have over someone let alone how much it can affect a nation or the world. But one man saw it differently.
In the middle of the twenty-first century, a man named Henry Betterman came up with a system to democratically rid the world of its inherent dark histories and allow it to move forward in a more positive, prosperous way.
Some two hundred years later, the world works together as one, wars are nearly nonexistent, poverty is next to extinct. Students, as young adults, are taught of how the great Betterman system helped to accomplish this and continues to keep the world in check.
Maxwell Botier is a proud, impassioned history and Betterman professor at the Univerisity of Nevada Fallon who enjoys teaching this great system to a new class of students each semester.
Then, one day, a piece of forgotten history is placed before him, piquing his curiosity. It is not long before he begins to realize the world in which he lives and teaches may not be so perfect after all.
As he delves deeper into his research, he must be cautious, as the Betterman system, in all its glory, carries with it harsh penalties for those who would attempt to undermine it."
I recall coming up with the idea one night as Liz and I drove through our neighborhood in Fernley, NV. I can't remember where we were heading, but I recall the one thought that eventually lead to the story. Now, I can't give details of said thought, as this was a prime example of finding the ending first, but I can assure you it is all in the pages now! All I can say is, at the time, "Survivor" was still one of the more popular reality shows as well as several other shows where people are voted off the based on the favor of the group.
Hopefully, by now you are as excited about it as I am, so I am going to tell you where you may find it! First of all, be sure to "Like" the Betterman Facebook page! I promise, there will not be weekly posts from this page like there is from Abanathy Photography, however, it helps to get the word out via Facebook! As for the book itself, as of this writing, you have two choices: The ebook edition and the paperback edition. Hardback will be available soon!
Either editions may be purchased directly from lulu.com (I will provide direct links to each below). The ebook edition is currently available through the more well-known chains such as Amazon.com and Barnesandnoble.com and, within the coming weeks, the paperback edition should also be available through these chains!
So there you have it. Me without a camera, but with a keyboard and pen instead. Like I said, this has been a long time coming. I am proud of it and I am also thankful to my wife for her support and to several (who I thank individually in the book) for their help in proofreading and editing the book. I am also thankful to be free to begin penning my next great novel!
Comments
comments