What to wear? What to wear? Well…That part is simple!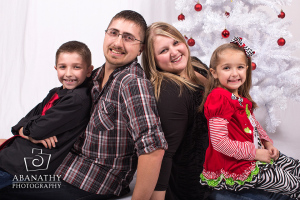 With so many portrait opportunities in the coming weeks from Abanathy Photography, LLC, there are several things to consider: When will you be able to get everyone together? When will YOU be able to find the time? Which is the best portrait session(s) for you and your family? What to wear? Etc.
Well, as fall begins and the festivities and holidays abound, I can offer little outside of a flexible schedule for the often-daunting task of getting everyone's time lined up. However, I can make the "what to wear?" portion quite a bit easier!
With our fall and early winter portrait schedule including everything from fall family and Halloween costume portraits to Christmas and "You" portraits (check here for last week's blog for more details), the possibilities for attire might seem endless. But do not let this be an undue headache. Instead, here's what I'm going to do for you: I am going to give you three words that apply across the board no matter what kind of portrait session you schedule. Are you ready? Are you sure? The three words are: Keep it simple!
That's it. If you overthink it, you will overdo it. Now, it does depend on what type of portrait session you are heading to. After all, you would not want to wear your best lingerie to a family fall portrait shoot, as that might make things a bit awkward for everyone involved. However, no matter the session, those three words, "keep it simple", still apply. I'll give some examples!
Fall Family Portraits
I should clarify, when I say "keep it simple" I should also add "yet conscious". For family portraits of any kind, the basic idea is to dress nicely. No, it does not have to be your Sunday best, but it should not be a Harley Davidson t-shirt either (yes, I've seen this worn in family portraits before). The better option would be to wear a nice button up shirt with no logos displayed outside of the shirt brand. Slacks or a nice pair of blue jeans are also good (no rips, holes or fading). Anything starting from this level and escalating to tuxedo would work fine, but I would remain in the the snappy-casual range if I were heading out to pose in a family portrait.
As for colors, this is also a simple choice: Solids work best! Patterns and plaids, unless they are intricate to you personally, should be avoided as they can be distracting in a portrait. As for kids, timeless outfit decor works well (i.e. a dinosour or flower), however, shirts with Dora the Explorer, Spongebob Squarepants, Batman, Breaking Bad, etc. will be a distraction and will date the image quickly.
Here are some more tips and even some visuals for what not to do in family portrait (8 tips for timeless family portraits). Once you are done shaking your head, you will understand what I mean about being simple, yet conscious.
(Bonus tip: While not entirely clothing-related, a good tip is to make sure hair is combed, fingernails clean, beards maintained, and outfits clear of pet hair and lint)
Halloween Portraits
Alright, I'll be fair. This one is simplest of all. It is a given for over the top clothes of any style, color, pattern or state of distress. This is basically a cute session designed to show off you and/or your child's great costume, so this is the simplest rule of all: Go nuts!
Christmas Portraits
Now, many of the same rules for family portraits still apply here (see above), however, there is one important difference one should bear in mind: Family Christmas portrait session planning can sometimes make families lose their minds. No, it is not the photographer and it is not the studio who is at fault for this. Rather, it is some families' "great" idea and/or impulse buy that can create a portrait worthy of a preemptive cringe. And that is: Matching outfits or elaborate themes.
If you believe it would be "so cute" to dress your family all in the same Rudolph the Red-Nosed Reindeer sweater (yeah, the ones with large, red poof-balls stitched on as the nose), click here (Christmas Pics Gone Bad…) and see what they will become in 10-20 years. True, there are a few more unsettling photos at this link, but it offers several lessons on what not to wear for your Christmas family portrait. Basically, no matching sweaters, no elaborate holiday themes, and, lastly, as these photos are heading to grandma, for goodness sake, keep your clothes on!
"You" portraits for him or her
Lastly, we come to the intimate portrait dress code. That's right, even undressing has its dos and don'ts! It doesn't matter if you book a "You" session for a significant other, with a significant other, or just as a feel-good opportunity for yourself, there are a few things to consider, which will make your session timeless and beautiful!
Do wear your sexiest lingerie, do bring nice blouses or nightgowns, do bring personal props if desired (toys, spouse's work shirt, jewelry, etc.), and do bring a confident, beautiful smile (yes, this is an important piece of attire for a "You" session!).
Don't wear your everyday, worn-out undergarments, Don't wear tight-fitting clothes up to two hours before the shoot (especially if you plan to remove any of them for some of the portraits), as this can cause red lines in your skin, and don't be nervous (once again, it is an emotion, but it shows on you. For more about overcoming your nerves check this out: Calming your Nerves!)
So, there it is! Simple enough, right? It might not seem like much, but, if you follow these tips, it will make your session much easier, it will make the photographer's post-edit job much easier, and it will result in portraits that you will be able to keep, view and admire for years to come! I can't wait to see you all in the coming weeks!
Comments
comments