Murray State's Great Beginnings…What an uplifting time!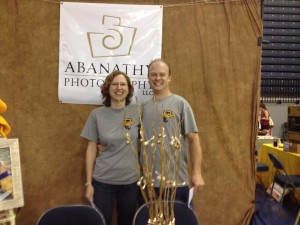 Heartwarming, overwhelming, exciting, nostalgic, renewing…These are just a few words to describe my feelings during last night's Explore Murray event at Murray State University's annual Great Beginnings (#greatbeginnings on Twitter) (#greatbeginnings on Facebook)!
We set up our booth amongst the many other great local business booths in the concourse area of the CFSB Center and patiently awaited the crowd of freshmen ever-growing outside catty-corner to us. Then, at 6 sharp, the doors opened and WHOA! What a crowd!
Now, I did use the word nostalgic above, as I too was once an eager freshman at Murray State. But you say "Patrick, you old man, the CFSB Center (aka the Regional Special Events Center) wasn't even around when you were a freshman. How could this be nostalgic to you?" True, the CFSB Center, or RSEC as we called it, was still some time out for us in the fall of 1997. Heck, Lowe's and its various peripheral buildings were still some time out. In fact, back then, coming from State Route 121, Murray truly began at the old Brandon Auto World building (the currently-empty building in front of Lowe's). But I digress.
Actually, the nostalgia comes from two things: First, not unlike today, Murray State went that extra mile for us to make the freshmen feel welcome and help them to begin their new exciting journey into independence. Second, I remember that look in mine and my friends' eyes. That look of wonder as we went in knowing not what to expect, but knowing it was going to be great! I saw that look on Saturday and I am excited for them! To all these new bright-eyed students, I say welcome to Murray State University!
As Liz and I stood on the sidelines passing out our fliers/coupons to the streaming mass of students, I was greeted my many "thank-yous" and a few questions. The main question was how I might be of service to the incoming freshmen. I touched upon a few services in last week's blog (Shutter shy after high school? But this is where it gets good!), however, I figure a bit more detail might be in order. Truthfully, there are many reasons a good (no great 🙂 ) professional photographer will be needed in your college career!
Greek/Club Group Shots:
Each year the different organizations on campus need group or composite shots taken of the year's members. For this, we offer professional group and/or composite shots at reasonable rates and we can even travel up to 50 miles to accommodate the shot at no extra charge!
Formal Events:
Is your organization looking to have a party or dinner? Memories come in all shapes and forms. Part of you college experience, if not your entire life experience, will be formal dinners. When a photographer comes in, as a kind of objective observer, what you end up with are professionally captured, candid moments of you and your friends enjoying the gathering while the photographer captures the moments. In these events, you are typically dressed in your best. So why not capture it?! Still don't believe me? Check our wonderful gallery out (Abanathy Photography, LLC's Event Portfolio)
Parties and Messy Events:
Now, as I said last week, I know not every college party wants to shake down with lots of…ahem…interesting photos of events you may or may not remember too well. However, for those more traditional annual parties and events, there will likely be some great opportunities for some great photos only a professional could capture. And chances are, whether you are of a Greek, academic, residential college, or other club, you will find yourself in the middle of some great, photogenic event. So don't be shy to give us a call!
Professional Head Shots and Portraits:
Now, for most freshmen, this is not going to immediately interest them, however, for those who need them, just want them, or know an upperclassman who needs them, professional head shots can't be beat when done by a professional! And, as always, we have unbeatable prices and an outstanding gallery to boot! Check it out! (Abanathy Photography, LLC's professional portrait gallery)
Once again, I want to give a hearty welcome to the new Murray State students as well as a hearty welcome to Murray to those new the area! We have a great university here, great folks in the community, and lots of opportunity for memories to be made! Have a great year! And don't forget to "like" us on Facebook!
Comments
comments