Such a wonderful Christmas season surrounded by great folks!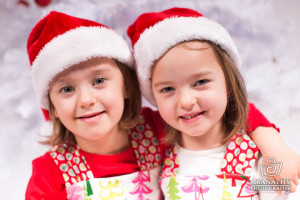 Wow! The rain, thunder and lightning behind us for a bit, the floor of our garage all but dry from a minor water backup during the deluge, and a look ahead to lower temperatures…cold temperatures…Christmas temperatures!
Not that we didn't enjoy the December's brief foray into spring. But it is unsettling to leave the jacket aside, search the closet for a short-sleeve shirt, and suddenly feel the urge to do some yard work when the calendar says it is only a handful of days BEFORE Christmas!
In any event, the weather forecast says it is likely to feel a lot more like Christmas by the time we reach Wednesday's magic. So we'll be patient. In the mean time, we want to wish all a Merry Christmas and hope all get to enjoy time with family and have safe travels.
During this time of giving and cheer, we have been blessed to have had many bring their wonderful kids in for portraits. There is nothing quite like the sound of children's laughter at this time of year and we not only got to hear it, but capture the moment in portraiture as well. It was great! I want to wish them all Christmas cheer as we approach the big day this week!
Also, keeping with the good spirits of the week, I had a wonderful time taking professional head shots for several Murray Calloway County Chamber of Commerce members on Thursday! Bailey & B Photography lead the way Tuesday with Abanathy Photography, LLC taking the reins on Thursday. The inflow of folks was steady and I had a wonderful time meeting new people, seeing some familiar faces, and taking great portraits of many great people!
So we count our many blessings being surrounded by so many happy people during this Christmas season. There just can't be enough said about greeting people with a smile. It just goes so far into making the rest of your conversation a delight!
And, as I am typing, I realize our first official year in business is nearly behind us. That is where the fun comes in. Be sure to stay tuned for next week's blog. It will be so chock full of information, you might have to let a bit digest before continuing on. We have many exciting things coming next year and you don't want to miss it!
For the time being, we are approaching the final opportunity to book us for a Christmas Eve photo shoot! We still have a couple of spots available! With this, for $99, we will come to your home (within the greater Murray/Calloway County area), set up professional lighting, arrange your family in front of the tree, fireplace, out by the pond, in the snow, you name it! Then we capture that great holiday memory! The whole thing takes less than an hour! Next, we will both mail you a photo disc with the images and also upload them to a private, online gallery where you may order other great photo gifts!
Of course, as I alluded to before, I can't give away everything we are looking to do in the new year, but I can reiterate a current offer, which will be honored into the early months of the new year. Even though it might be a little late for a Christmas present, our Santa Baby Boudoir Special will still be honored for an extended time! If you book between now and Dec. 31 we will honor the deal up until Feb. 7! So you could still make it a Valentine Baby deal if you wanted! With this, for $149, this includes professional hair and makeup, up to one hour with the photographer, four professionally edited 8x10s (or a photo disc with four edited images), and the option to order additional photo gifts. To be discreet, we print the 8x10s in-house, however, you may opt to have your portraits (and/or other gifts) printed through our online photo service as well. The choice is yours!
Those looking to book a session may contact us at (270) 767-1163 or email us at abanathyphoto@gmail.com
Well, that will about do it for our pre-Christmas blog! Hope all have a wonderful Christmas! Be safe and be happy and I will catch you next time! Merry Christmas from Abanathy Photography, LLC!
Comments
comments