Focused on the natural you!…Not the plastic you!
Who knew that simply striving to make people look their natural best would be something I would have to advertise as a photographer? I mean, one would think this to be a no-brainer for professional photographers, right? However, too often I happen upon photos where "natural" was left way back on the digital cutting room floor.
When it comes to Abanathy Photography's style, I know what I want. It is not earth-shatteringly unique, but it seems to be in short supply amongst some "professional" photographers. And that is to make your natural beauty shine!
Our slogan "Focused on the natural you" was inspired by a couple of things. One is my love for the natural ways people look and behave. Not a bunch of photographs of you not being you, or you in an uncomfortable pose, but rather capturing your personality and your uniqueness. Another is what I am addressing today and that is the desire to properly maintain even the smallest details to make sure you are not lost in the editing process.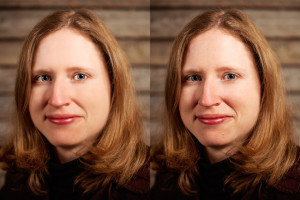 We've all seen, at one time or another, photographs of people, kids, babies, etc. which have been way over-edited. The photos make the people look as though they have been kept in a dark box and handled with kid gloves their whole life and the only reason they are smiling is that they got to come out for a second and see daylight. Overly smooth skin, little shadow, no blemishes, no wrinkles, no freckles, no flaws (of any kind natural or not), and, in short, not reality.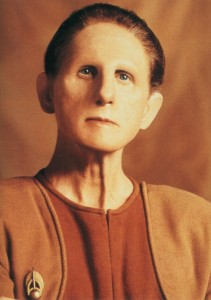 Now, I know what you are saying: "Patrick, I want those things removed from my picture! I don't want to see my flaws!" To this I will elaborate: I agree cuts, scratches, dirt, rogue hairs, pimples, dirty fingernails, warts, etc are all candidates for Photoshop's handy work. However, there is a line between making one look their best and making one look more akin to Odo from Star Trek: Deep Space Nine. For all of those who are not familiar with Star Trek, I will include a photo of Odo with this blog, (along with an example portrait of what I am speaking of), and you will (hopefully) instantly see what I am talking about.
Often when I see these pictures either online or photo displays, I can't help but think of Odo because these images are often so highly edited that, like him, they have no real facial definition. They are too smooth, too flawless, too perfect, and basically make the person look as though they were made of plastic. This lends itself to unconscious ridicule by the brain, as those missing little details tell it, on some level, that the picture just isn't right. And to top it all, they often over-edit the eyes as well bringing them to a point where they seem to be creepily, and almost cartoonishly, staring into your soul.
Now I aim to please and, if that is what you are looking for in a photograph, then my very talented wife and co-owner will gladly smooth you right out and give you the most color-saturated, reflectionless eyes you can imagine. However, what we would rather do is keep those little parts of you intact and take out the more temporary or, often, universally despised blemishes.
Now, on to the "au naturel" portion of this "natural" blog. On the evening of Thursday, Sept. 26 from 7-8:30p.m., Abanathy Photography, LLC will host a boudoir demonstration at our studio in Murray. It is ladies only (no one under 18 please) and is for those out there who are timid, nervous, or just curious about booking a boudoir session. This is your opportunity to see just how one of these sessions takes place! Using a model, we will demonstrate a few poses and how we edit the photos. Then we will follow up with Q&A from the ladies.
We encourage you to please call (270-767-1163) or email (abanathyphoto@gmail.com) to let us know if you plan to attend, as seating is limited.
Comments
comments