Even with a home studio, I am enjoying the away shoots
Some years back, when I was first inspired to become a full-time portrait photographer working for myself, I found several things attractive about the idea.
First and foremost, of course, was the reason most would give if asked why they decided to open their own business, which is the idea of making money doing what you love. However, another aspect caught my interest as well: Working from home! No more leaving my sanctuary every morning and having to be away for hours on end (regardless of workload at my job) only to arrive back home in the evening just in time to watch the sunset.
This was especially the case when we finally did find a home with a such a beautiful property. Back in Nevada our property was measured in square footage rather than acres and the neighborhood/traffic noise kept peace at bay. Now, with two and a half acres in the green countryside, the pain of backing out of the driveway every morning is even more poignant.
Funny thing is: Even though working from home was one of my goals and having a studio and scenic property makes that a reality, I find many of my gigs are away from home anyway…And, as it turns out, that's just fine!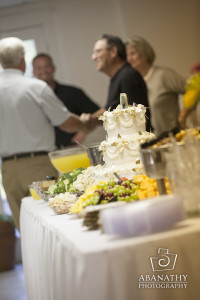 Just this past Saturday, I was at the Murray Women's Club once again where I was hired to photograph a 50th wedding anniversary surprise party. Great people, great party, I had a great time, and I was, once again, away from home. But this is where some of the magic happens! The more places I am hired to shoot, the more inspiration I receive.
I recall, Saturday, seeing a prime example of this. For any who are not familiar with the Murray Women's Club, they have some wonderful backdrops available on the grounds. Having already been a second shooter at a wedding there last year, I was already aware of this. However, as I was at my car readying my equipment for the second half of the shoot (at the clients' home), I looked up and noticed a would be (and hopefully will be) wonderful shot. In the hazy, diffused light of the setting August sun, I could see a layered effect moving from darkened trees, to a lighted clearing, and back to darkened trees. I could immediately picture a host of images of a bride and groom standing there. The first thing to pop into my head: "I cannot wait to shoot my first full wedding here!" Before, as a second shooter, those shots were more or less reserved for the primary shooter, so I will just have to wait until next time. And I hope it is soon!
But, back on topic, it seems working away from home is not so bad when your name is on the company. It lets me be fully creative with the surrounding areas, gives me a greater perspective on Western Kentucky (as if 4-H didn't do enough of that for me already), and it lets me find places I never knew existed!
In fact, this month alone, among my upcoming gigs, I will travel to several places including Mayfield and Madisonville. It all begins Thursday when I will once again load up the car and head to Mayfield for the annual Mayfield Graves County Chamber of Commerce dinner. While I have been at this outdoors location once before, in a non-photographer capacity, this time I get to put my creativity to work and make some more wonderful pictures before the setting Kentucky sun!
I can't wait to see where my camera takes me next!
Comments
comments