Feeling love from the community: Successful ribbon cutting and grand opening for us!
Well, just about anyone in Kentucky will tell you: You plan some kind of large event and it will rain. Well, if proportionality factors into this philosophy at all, we must have planned one heck of a bash, because the clouds definitely opened up on Saturday!
But all the rain aside, the past few days have been quite a ride for Abanathy Photography, LLC!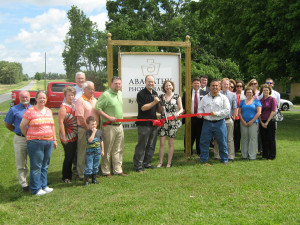 It all started with our ribbon cutting on Thursday morning with the lovely staff of the Murray Calloway County Chamber of Commerce as well as several local leaders, business owners/employees, friends, and family. And we want to say thanks to all who took time out of their Thursday morning to stop by and take part in that great event with us! It really meant a lot to us!
Next came a short (very short) rest before our grand opening on Saturday afternoon.
We had a wonderful time. Several came out putting to rest concerns, which had been building up in my mind since about mid-week when the weather predictions started becoming progressively grim.
When we woke up Saturday, the downpour was not unexpected, however, what did catch me a little off-guard was what happened a little later. When I first peered out the window, all was green and receiving a shower, then we went to have a bowl of cereal. When we looked out again not long later, the stretch of greenery had been overtaken by a torrent of muddy water rushing across the back of our property.
Now, we are used to this (I touched upon our "stream" during my first blog post viewable here), however, we have not seen the water this high in several years. Luckily, this is as high as it ever reaches, which bodes very well for everything we own. And, as usual, within a half hour or so following the rain onslaught, it was as if it were never there, save for some washed up stick piles and lingering puddles here and there. Not to mention, a minimal washout at the corner of our garden (Did I mention that I am glad this "river" never rises any further?)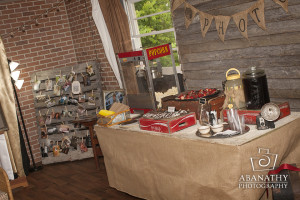 But, in all seriousness, with water over roadways and various other June 1 events in the area already having been cancelled on account of the weather, we knew attendance would be hindered. But we did nonetheless have a great time with those who did brave the rain and we still invite anyone who did not get a chance to drop by to send us an email or give us a call and set up a time to come by and take a look. We will be happy to give the tour!
And as disappointed as I could allow myself to be in light of Saturday's storm, I still count blessings. My heart hurts for those in Paducah and other outlying areas who saw much, much worse in the wake of this rain.
Well, now that it is all said and done, we have some announcements to make. First and foremost, we have some winners to announce from Saturday's prize drawings. The names were entered both from those who attended and those who "SHARED" our event flier on Facebook. Without further ado, the three winners of the free mini-sessions are (in no particular order): Karen McCuiston, Tim Greer, and David Jones.
And the winner of our big prize (a FREE full photo session) is………….(drum roll)…………Jessica Foster!!
If any of these lucky winners are reading here, we are sending an email to the address provided to us and you will receive your prize certificates in the mail. Thanks for attending/sharing and we hope to see you in front of our camera soon!
And looking to the future, it is a bright and busy one for Abanathy Photography, LLC! Several events are in the works, so keep an eye out!
Now, I'm going to go take a rest and ready myself for the Monday grindstone, but be sure to enjoy some of our pictures (both on here and on our Facebook page) from this week's events! Talk to you next week!
Comments
comments