Partnering with the community: It's good for the soul!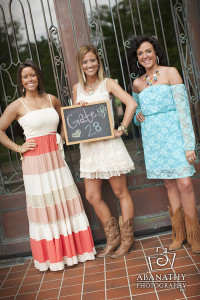 This blog might just be the most real time thus far. The next best thing will be me typing it with one hand while holding the camera in the other. Anyway, to the point, we just returned from what we hope is the first of many wonderful fashion shoots with the lovely ladies of Gate 28 in Murray!
Even with the unfortunate, rain-soaked cancellation of a fundraiser photo shoot Saturday, the weekend still found me behind the camera early Sunday afternoon. Beneath an overcast sky, with winter's chill just out of reach, the lovely Adrianne, JoAnna, and Sarah braved the mild weather to help us deliver some stunning photos for use on the Gate 28 Facebook page and website. So be sure to click here very soon, as you will be able to see for yourself! For now, you may peruse a couple we'll include with this blog.
This is part of what we hope will be a more or less symbiotic relationship. As a photography studio first starting out, we understand the importance of simply getting our name out there. That is why we hope to work with various area boutiques to show everyone exactly what we can do. In return we also plan to give proper credit to the different businesses with which we work. It's definitely a win-win and is something I have been looking forward to since my wife first had the idea some weeks ago.
For today's shoot, we ultimately had to go with a second alternative for location. Friday and Saturday's nonstop downpour left many would-be locales a bit waterlogged and muddy, which does not mesh well with clothing intended for sale. So, we opted for a location with a bit more concrete, yet still with plenty of scenic backdrops: Murray State University's quad.
This area might seem a little overdone photographically, however, it is such for a reason. Everywhere you turn is a chance for another great shot. And with the MSU's spring foliage still mostly in bloom, one could not ask for a better variety. Hopefully, as the summer progresses, we will be able to visit some other locations in and around Murray. There's simply too much this part of the state has to offer to limit the possibilities.
Of course, like I noted before, the sky was overcast. Although the weatherman said we were going to begin seeing the sun around 2-3, what we did get was brief and then it returned to gray. However, this is not a bad thing. As I have stated in a previous blog (No such thing as a bad picture day!), the diffused light offered some of the best ways to capture the shots. I won't go into too much of that here, as you can read more about it in my previous blog. What I will say is that I am very much looking forward to working with these ladies again in the future when we can utilize a little more direct sunlight as well.
Comments
comments