It's a Sign From Above…About Eight Feet Above, That Is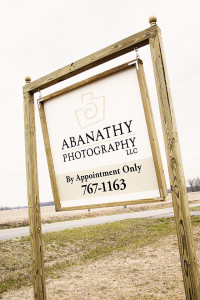 My arms are sore in more places than I can count, my back and neck too feel the burn, my skin has dried from exposure to dirt, sun, wind, and concrete, and my legs easily empathize with my arms. But it was worth it! Our sign is hanging for all to see at 108 Rob Mason Road!
Saturday was the "fun" part involving a post hole digger down to about two and a half feet…twice! And not a mechanical one either. Oh no. It was the good old fashioned slam, pinch, and pull type that leaves you shaking and scraping our sticky, West Kentucky clay from its metal jaws. Once complete, following a little handy work, the frame was ready to hoist and drop into the holes. About 300 lbs of concrete later found us playing the waiting game for the day.
By that time, the wonderful spring day was in full swing and I was just about worn out. However, I still had the urge and drive to continue with framing the sign itself despite my eyes begging for a nap. Luckily, we had a business meeting in the afternoon so it forced me to hold up on that part. That was saved for Sunday…and I'm glad it was. By Saturday afternoon I, in fact, was napping and by Sunday, I was ready to tackle it again, lost hour and all. Framing want swimmingly and with help from Liz against the gusty, southerly wind, we got the 4-by-4-foot beauty hung in place!
Now, it's funny how you can buy all the good hardware, you've seen similar signs in the area, and have based the design on an existing, longtime swinging sign, however, when you do it yourself, you get a little nervous as to how it is going to survive the real world test. The biggest test to this sign is going to be wind. Especially in a spot where there is nothing but a sprawling field to the west across the road. But, if it ever needed a workout to see how it was going to swing, this windy day has given it that. And that's good. I want this thing tested. Like with my photography, sometimes its good to push the limits to see what it can take. Luckily, most prevailing, westerly winds will see it move very little, as they will be parallel to the sign. But that won't keep me from checking up on it multiple times during the next bad storm. That's with a flashlight near midnight, of course, because Heaven forbid one of these treacherous, tornado-ripe storms move through during the day.
Aside from the excitement of finally getting this beautiful sign (thanks again Ottway Sign and Design) in place, we are also excited to have yet another larger presence in the advertising world. Now, if we can just get that opening at the Cheri Theater…
Comments
comments